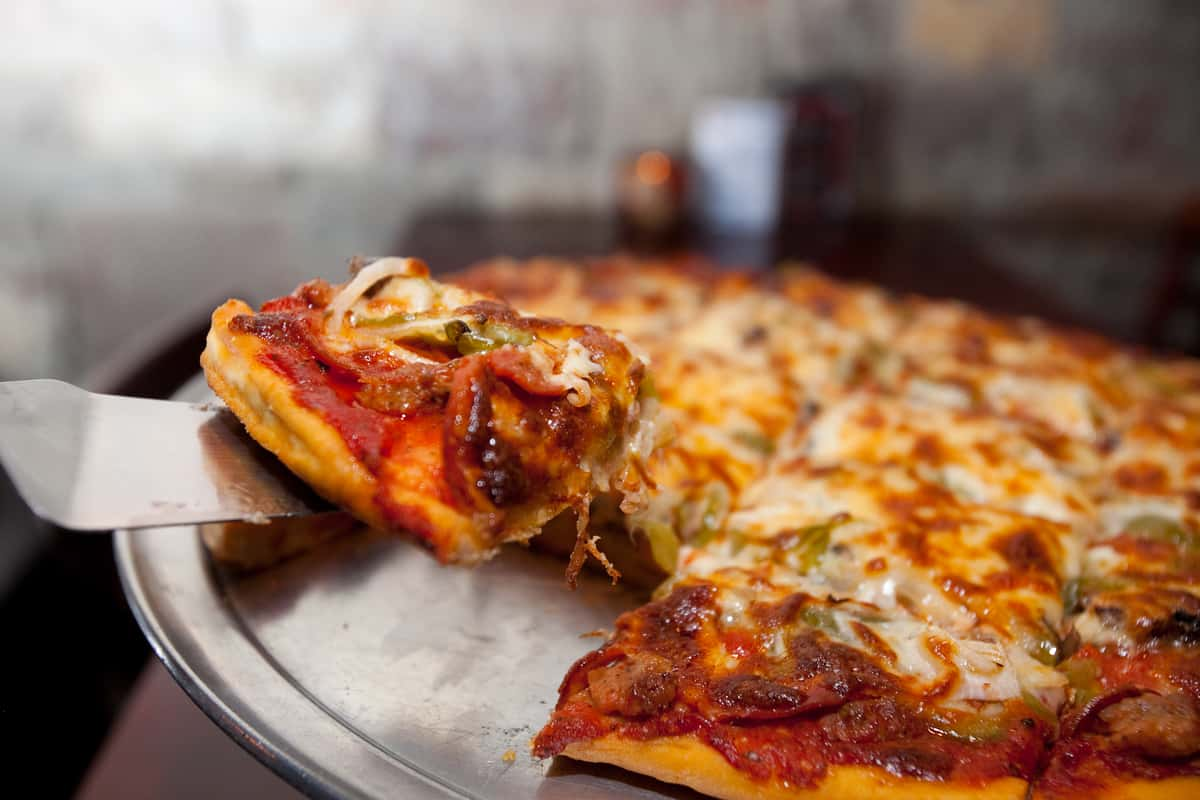 Menu
Become a VIP
Receive updates on special events, new menu items, menu reviews, and more!
Food Menu - Dine In / Carryout / Delivery
Salads & Soups
Make any Salad a Wrap! Ask your Server about our Daily Specials
Salerno's Pizza
Begins with traditional Italian thick crust, tomato sauce & cheese. Add your favorite toppings.


Thin and extra thin crust available upon request.
Specialty Pizzas
Our Specialty Pizzas are Uniquely Created with Taste in Mind. Deletions are Okay. No Substitutions or Adding Toppings
Panzerotti & Calzone
Fillings
Anchovies, Bacon, Canadian Bacon, Chicken, Ground Beef, Ham, Italian Beef, Pepperoni, Sausage, Artichoke, Black Olives, Green Olives, Green Peppers, Ham, Hot Giardiniera, Jalapenos, Mushroom, Onions, Pineapple, Ricotta Cheese, Spinach, Tomatoes, Zucchini
Chicken Wings
Mounds of Premium Wings, Cooked to Perfection and Smothered in the Sauce of Your choice (approx. 7 Wings per Order)
Sandwiches & Paninis
Served with Fries or House Salad. Waffle Fries Add $2.00 | Onion Rings Add $3.00 | Sandwich Additions: Cheese $1.00 | Hot Peppers $1.00 |Sweet Peppers $1.00.
Burgers
Served with fries or house salad. Waffle fries add $2.00 | onion rings add $3.00 | Burger Additions: Avocado $2.00 | Bacon $1.00 | Cheese $1.00 | Grilled Onions $1.00 | Over-Easy Egg $1, Sauteed Mushrooms $1.00.
Entrees
Served with House Salad Substitute Soup for $1.00 more.
Salerno's Signature Dishes
Our Family's homemade sauces and dishes that made us popular for years. Served with House Salad. Substitute Soup for $1.00 more.
"Make Your Own" Pasta
Served with a House Salad. Substitute Soup for $1.00 more. Additions: Shrimp $5.00 | Meatballs, Sausage or Chicken $4.00 | Broccoli $2.00. *Have it Baked with Meat Sauce, Ricotta & Mozzarella add $3.00. Gluten Free (Spaghetti or Rigatoni) Available add $3.00.
Kids Dishes
Your Choice $6.50 (kids 10 and under only)
includes soft drink or milk
+The Illinois Department of Public Health advises that eating raw or undercooked meat, poultry, eggs or seafood poses a health risk to everyone, but especially to the elderly, young children under age 4, pregnant women, and other highly susceptible individuals with compromised immune systems. 

* We reserve the right to limit quantities - Prices subject to change without notice *